We set another page to just link out discussions and articles that we felt might be of interest and possibly educational in the heavier arrow and trad archery topics. Check it out periodically as we add things as we find them.
We have found these and other links useful in researching additional information on Archery, Hunting with Traditional Equipment, trip planning and more...
www.tradgang.com
www.bowtote.com
www.bows.net
www.tradbow.com
Other links with good information on shot placement, general education and archery ethics:
http://www.idahosportsman.com/
Pope and Young Club
Professional Bowhunters Society (PBS)
United Bow Hunters of Illinois (UBI)
Compton Traditional Bowhunters


Products we've used, tried and think you'll enjoy...


In-Glaze Imagery - Check this site out for a new way to preserve the image of your trophy. Have an image made on your coffee cup and start out the day with good thoughts and memories!



David Petersen Books... including A Man Made of Elk and other good reading
www.davidpetersenbooks.com



Custom Long Gun, Pistol, Bow, Kinfe and Fishing Rod cabinetry -
Amish crafted quality, custom storage solutions for the discrimination sportsman

www.Custom-Guncabinet.com

Dryad Bows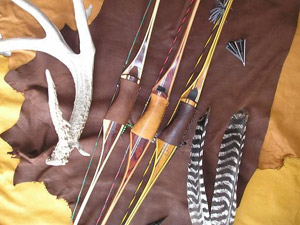 Joe Blake and Prairie Longbows
Jim Hills Spine Tester- you can build this yourself with a little patience

General Hunting Education Info...
Did you know that both male and female bison have horns? To learn how to field judge bison visit
http://wildlife.utah.gov/hunting//bison/bison_orientation.pdf
Honest-Food.net - books, recipes and other good information for the hunter, fisherman or gatherer

Good information on Photography Tips for preserving the memories of your hunt....
How good are you with knots? Every outdoorsman or woman has a reason to use rope and a good knot is always handy. One just might keep you safer in your tree stand. Here is a great site we found, animated visuals and great tutorials on hundreds of useful knots. http://www.animatedknots.com

Reference Room